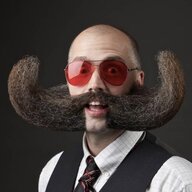 Joined

Nov 18, 2022
Messages

18
Location
Here it is. My first ever jeep. Pick found it on marketplace. Has 85k miles, 4.0L, manual transmission and a host of modifications. I say modifications and not upgrades because everything is half-a**ed. I want to make a dedicated rock rig out of if that is somewhat road worthy. I think it has good bones, but it needs a lot of work.
It sat for about 3 years and was in serious need to attention. The kid bought it thinking is family would learn about jeeps with him. Sadly, they told him;
"we don't like jeeps. We don't know anything about jeeps. We like muscle Cars. Either fix this jeep yourself for get rid of it."
The first guy started off with good intentions. It for sure has got bigger axles. I believe it has Dana 60s, but I am not 100% on that. maybe someone can confirm.
I was also happy to see it had disc brakes on all corners.
Notice the rag in the above picture. No U joint, no inner axle shafts. I hope these at least these are salvageable.
This is the front axle.
Measures approximately 11" wide if that tells us anything.
I pulled the front diff cover before I bought it. I was happy there were gears in there!
I still don't know what gearing it is. I'll find out sooner or later.
And King shocks on all corners as well.
Some kind of aftermarket gas tank as well?
The kid pulled the inner and outer fenders to put the shock towers on. In process, he left a lot of parts hanging under the hood. Things like cruse control module, vacuum reservoir, fuse panel, and some other things I'm clueless about.
Cruise control....
not sure what this is...
37 tires on 16.5" split rim wheels. I think they're off of a Hummer H1 military style.
I'm not exactly sure what they call this. Long arm suspension kit? What ever it is, it aint factory.
rear Diff. is it a Dana 60???
I sure would like to know if this rear is a Dana 60, and off of what. If anyone knows, help a brother out. I'm guessing it's off of a Dodge 2500? Anyone?
After 2 hours of talking and several photos, I purchased the jeep and draged it home. My first Jeep!
There are a number of issues that need to be fixed. Some I know about, other I have yet to discover.
Immediate acton....
Address the Body lean.
Shocks need oil? Kid said they didn't add the oil?
Parts under the hood hanging loose need attachment.
Needs Inner Fenders.
Gas Tank is not level.
Front axle shafts, U-joint and Yokes are missing.
Shock reservoirs need a home.
Water pump needs to be replaced..
Radiator needs a flush. it has leek fix crap in it.
Radiator fan is electric. I want to go back to stock setup.
I need to figure out what the axles and brakes are off of.
Upper and lower control arms, front and back need attention.
Power steering hoses leaking.
Check engine light is on... duh.
Needs an exhaust.
Needs an Emergency brake.
Fluid checks.
Long term Wishes...
Loockers.
40" tires.
Bead lock wheels.
Better Transfer case, probably from a Rubicon.
On board air.
custom roll cage.
Winch.
front axle stretch for ~105" wheelbase.
Stay Tuned! Lots of work!
Last edited: