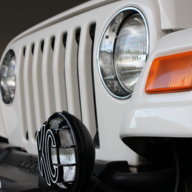 TJ Expert
Supporting Member
Joined

Jun 19, 2017
Messages

5,197
Location
I guess Fiat doesnt suck as much as everyone likes to claim.
*Concept* Jeep J6 a two-door Wrangler with a 6 foot bed. The 118.4-inch wheelbase is unchanged from the four-door JL Wrangler. At 201 inches, the J6 is 17 inches shorter than the four-door 2020 Jeep JT Gladiator pickup.
The Jeep J6 pictured and in the video has a 2 inch Mopar lift kit with 37 inch tires wrapped around some 17 inch prototype beadlock wheels.
The spare placement is a bit non-practical but I would rock it.
This Jeep will be at EJS this year. Looks awesome IMO.
Cool concept build over all. The two door would do better off road than its four door production counterpart.
But would it do better in sales? I would say, yes.
Not a fan of any of the host on this channel, but they always manage to release content first.
Last edited: