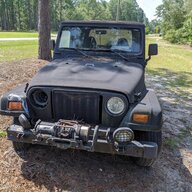 Joined

Jul 26, 2021
Messages

37
Location
Bank 1 sensor 1 (upstream) should be just below the flange, mating the pipe to the manifold, bank 1 sensor 2 (down stream) should be between the catalytic converter and the muffler... That being said I suppose it's possible someone could have installed a different catalytic converter that has it "in" the body of the cat???
I'm sure the Transfer case blowout took out the original catalytic converter. I'll probably drop the skid in the next few days and try to get a good look at the CC.
I'm thinking now that there's no place to put the downstream sensor, that's why they tucked it up into the frame.
The upstream is in the correct spot, thankfully.