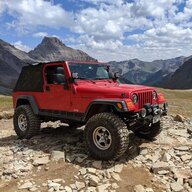 Sacred Order of the Coil Spring
Supporting Member
Joined

Sep 26, 2019
Messages

2,552
Location
Troy called from Tom Wood's. Says the driveshaft was straight and as well balanced as they could have gotten it. Sending it back to me.

He suggested checking the centering tabs on the yoke, and they're sending me new straps. The yoke was replaced with the regear and the tabs are healthy. The straps are the same ones that were on, and weren't causing vibration then, but I'll try the new ones.

Troy seemed pretty confident telling me he didn't think it was pinion angle since the vibration doesn't change with load, but I'll still play with it because I have mostly johnny joints so the axle probably doesn't move much at all under load. I haven't questioned the angle up to this point because it just feels different than the last time I had driveline angle issues....but that was with mostly stock bushings, stock uppers, and at much lower speeds, so it may have just been a different frequency and transmitted differently.