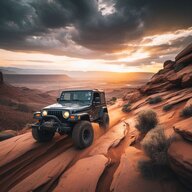 autos are better - WRWD508
Supporting Member
Joined

Feb 28, 2017
Messages

10,918
Location
Look at this post on Facebook
https://www.facebook.com/share/gkQP9nWiSJg91DK7/?mibextid=K35XfP
Copied and pasted below for those without FB. It's about racing, but it applies to Jeeps too.
If I could go back in time.... I would never have modified my cars. I mostly did the engine for more straight line speed. Years of my life passed "building" objects when I only had pennies to spare. Nothing but a few photos of them remain now, they still make me smile but I wouldn't do it the same way. Instead, I would just get a reliable daily, as mundane and miserly as possible.
I'd take all the money I saved, buy myself a small, light, used, manual sports car that's simple to work on. I'd strip it out for free, so I could hear every sound and every pebble hit the chassis. My mods would all be subtraction and the addition would end at a racing seat and harness… so that I could glue my body to the chassis and feel the right rear tire losing grip before it's even had a chance to complain about it.
Then… I'd wait. I'd wait and wait with my helmet and keys in hand, praying like a farmer for rain. Every time it rained I would jump into my car, go to some secluded spot, and practice driving in the wet. Learn how the car transfers weight… how energy falls or snaps back… learn how to ride the thin edge of grip on wet braking. Mastering my car slowly like Tsuchiya did late at nights down a mountain pass. I would practice heel and toe downshifting, rev matching, left foot braking, double clutching, and keeping the car consistently steady at the edge.
I wouldn't pay any attention to people that tell me how to modify my car. After a few years, the car you have mastered becomes your perfect-fitting old shoe, and you can dance with it like no one else can.
While everyone else is online trying to be king on Instagram, finding followers, arguing and bench racing, you'd slowly become king of driving skill finding balance on a razor's edge.
See… building an object or meaningless fame can never equal the value of building yourself. Objects come and go, and you're a celebrity one day and a nobody the next… but your skills remain for life. Even as an old man you will get into a race car, clock perfect laps, and teach all the young guys how it's done.
When they are befuddled, and walk up and ask you how you are so good, you tell them "I did it with a cheap car… with an old used seat… under the rain."