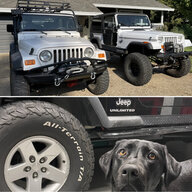 New Member
Supporting Member
Joined

Mar 8, 2023
Messages

8
Location
Hello everyone,
Long time Jeeper here, first time posting. Bought my first Jeep when I was 15 and taught myself how to drive a stick. That was a 93' YJ, and over the 18 years I owned it, took it from stock to 6 1/2" SOA lift on 35's and all of the goodies to go with it.
I loved that Jeep, but when the family started growing, as many of you probably know, infants and lifted Jeeps are a difficult combination. Sold it and bought a truck to get by. Fast forward a couple years, with the kids no longer crawling, I started to get the Jeep itch back. I knew I didn't have the time or workshop space to build what I wanted from the ground up, so I started searching for something that had a head start. I found a 00' TJ that fit the bill and took ownership in 21'.
In all of my searching, I began to fall in love with the 04-06 unlimited. Longer wheel base, more storage space, bla bla bla you've heard it before… but I knew finding one that checks all of the boxes would be time consuming and eventually expensive, so I began to save and search. Took about a year and a half, but finally the stars aligned, I had the cash and found a truly beautiful example of the LJR.
Haven't had it long enough to get a good trail picture, best I can do is driveway until some snow melts in the mountains. Love my new LJ, it's almost built to my specs but always room for improvement. I've been lurking in the forum shadows for a while and have gained valuable knowledge along the way, now it's time to join the community and contribute to the conversation. Northern California based, always looking for new areas to explore, Jeeper for life!