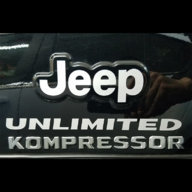 TJ Enthusiast
Supporting Member
Don't be afraid of the gadgets...not having to manually roll your windows down isn't a terrible thing. The new JLs look great, and the Rubicon model is very impressive. Stock with 33s from the factory. Who would of thought that would happen. Price tag is very steep, but so is everything else.
I love gadgets! My TJ has all the factory junk (electronic mirror, premium sound with sub, etc.) plus I've added power widows, power door locks, comprehensive alarm (with sound, impact, and proximity sensors and two-way remote), an AM/FM/CD/DVD indash with a 7" touch screen with Nav and iPod/iPhone interface, CCTV, and dash mounted tweeters (hacked so it plays DVDs while I'm driving - keeps the wife entertained), radar detector, ScanGuage, leather seats with seat heaters, intercooled turbo, onboard air system, hydraulic winch with wireless remote, and more. I installed everything myself over 14 years, and I know how it all works and how to fix it. So far (14 years) I've never had anything fail on the trail, I did have the light bulb on the ScanGuage go out once - I sent it back to the factory and they sent me a brand new upgraded model.
Back in the '50s, electronic add-ons had a reputation for unreliability. Things have changed since then.
I spent around 15 years as a professional auto electronics installer - most of the repairs I did were due to poor installation by others, not equipment failures.
Last edited: