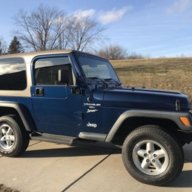 Joined

Jan 4, 2019
Messages

71
Location
Hey all -- Just signed up. I'm within a week or so away of having my 2nd TJ in the drive. Back in 1994, I had a 1979 CJ7 -- AMC 304 V8 auto. Sold it when I bought my 1st house. In 1997, bought a new 97 TJ, 4.0L, 5 spd, hardtop...SOOO fun. Sold it in 2001 when we moved from tent camping to travel trailers.

Today, we have a new motorhome. Have a couple TJ's that I'm trying to narrow down with additional pics / pricing / etc. So, I'm hoping to use the knowledge here for upgrades (has been years .... 18 of them....since owning a TJ) for fun off-road adventures.

We have campsites booked at Rocky Mtn NP in Colorado in July so got time to get 'er ready...when she gets in the driveway....for a Colorado adventure.