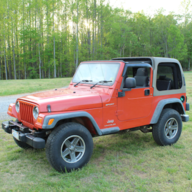 Kubota Diesel Wrangler Guy
Supporting Member
Joined

Aug 1, 2018
Messages

790
Location
Hey TJers,
It seems to me that there is enough of us coming from the east coast who want to overland our way to Moab Utah next year that we should have our own thread dedicated to organizing this trip so we don't add to the more posts to the
TJ Fest 2021 - Moab (4/24/2021–5/1/2021)
thread (at time of writing 62 pages)
So far I have talked to the following about caravaning:
@4squarelights
(My buddy Jacob)
@FireJeep
@Yellow_Machine
The following members have been mentioned by
@Yellow_Machine
but I have not personally chatted with:
@Brianj5600
@RD3
I have created the following map.
TJ Fest 2021 East Coast to Moab Map
It's view only, I'll be editing and updating it, if you would please list where you are leaving from so I can start figuring out where we can meet up and start planning our overlanding spots as well. I don't need exact locations, just city/town/county from where you are leaving! This is just to get a rough estimate of where everyone is!
Currently we are working on figuring out the following:
Who wants to caravan?
How long do we want to drive per day?
How long do people have off for this trip?
Are we doing this one way or round trip?
Is there a specific speed we want to try to stick to?
Thank you so much!
Grant
Last edited: