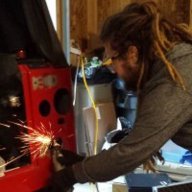 Vroom vroom
Supporting Member
Joined

Mar 29, 2018
Messages

6,775
Location
I don't know if there is a work-around for the "new" units. The link I posted is for the old units I bought last year and there may still be inventory on those. If the supplier switches those out for new units at the old price, they're fools.

If they are being sold as "ham radios", they are not legal to modify. If they are being sold as "commercial radios" its 100% legal to modify for the ham radio bands...which would probably get you GMRS too. Personally, as I've stated many times, I HATE these radios but they work and are cheap. Buyer beware!
Mind if I order a couple from the link you provided and have them shipped directly to you for programming? If they're actually the new model I'll just send you the return label Amazon provides. Just let me know what I'd owe you for shipping back to me.