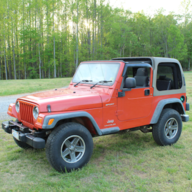 Kubota Diesel Wrangler Guy
Supporting Member
Joined

Aug 1, 2018
Messages

770
Location
Hey TJers
First off let me say I don't know the correct place to put this thread, so
@Chris
feel free to move to the appropriate sub-forum!
I'm trying to decided if I'm going to overland the entire trip of TJ Fest Moab 2021 or end up doing a hotel OR a mixture of both. I know several people are doing a hotel/rental for the week, but with the long drive, even with the fuel savings, it would be cheaper for me setup my TJ with a roof top rack/tent and overland the entire or part of the week versus staying at hotels/rentals.
That being said maybe I overland my way to Moab and stay somewhere that has a garage once I'm in Moab so I can unload everything. Again I'm still trying to plan everything out!
So a couple of disclaimers, first this would be my first long trip overlanding, but it's something I have dreamed about doing for years. Second I've already found a deal locally for a used Garvin Expedition Roof Rack for a great price used.
I'm trying to weigh the pros and cons of this thought right now. So far here is my list:
Pros
I can use the roof rack and tent for other trips both before and after TJ Fest
It's looking like there are others that are wanting to caravan from VA and overland on the way to Moab. @FireJeep have started a conversation though I know I need to respond to your latest message! @Yellow_Machine as mentioned overlanding/caravanning to Utah as well.
(Kind of applicable) I've known for a long time I wanted to build my TJ into an overland rig vs a hard core offroader
I don't have to worry about someone trying to steal my rig from a hotel parking lot.
Gain new friends and learn a new skill set that I don't currently have
Cons
Unpredictable weather
Extra weight each day on the trail carrying all my gear
Have to plan bathrooms
Showers? (Again I'm a noob, I'll admit this all day long)
Probably extra gear for food, camping and stuff I haven't thought of yet
I have no idea where I will be staying in Moab right now (I need to read the book more but recommendations for camping sites would be awesome!)
I will also add I don't think my diesel is going to get the kind of fuel economy I had hoped for this trip. The reason being is I don't think I have time to setup an intercooler setup and a bigger turbo before the trip. I'm still going to get great fuel economy for a TJ, easily 25mpg, but I don't think I will get 30mpg this time around. I kind of want to wrap up my build on my RHD TJ and just start putting mileage on it both on the trail and road so I can get everything dialed in for next year. If there is anything I have learned from this build, it's that modifications like this take WAY longer than I would normally estimate.
I'm completely open to any and all feedback on this. Admittedly I feel like I've posted a thread like this already but I couldn't find it.
Regardless of how I get to and stay in Moab Utah, I'm looking forward to meeting everyone and crossing off a bucket list item I've been wanting to do for years!!!
Thanks
Grant aka Rusty Autoholic Guy aka Noob
Last edited: