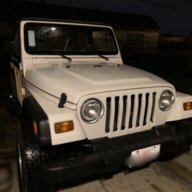 TJ Addict
Supporting Member
Joined

Jan 5, 2019
Messages

1,705
Location
In the "what did you do to your TJ" thread I mentioned I "fixed" my check engine light problem. The light came on and the code reader said "cylinder 1misfire". At that time, I thought it was a loose connection from the wire to the spark plug. It ran fine after I pushed it back on. Well, today it started missing again and the light came back on. Same exact code, P301 cylinder 1 misfire. This time I pulled the plug.
I checked the gap and it was a little over .040. I ran it across the wire wheel then set the gap at .035 after doing a quick google search for the correct gap. While I was putting the plug back in, hubby came out to see how I was doing and said I should check the cap, so he pulled it off to look at it. Ended up going to the parts store and getting a new cap and rotor.
Put it all back together and was excited to start it up and see how smooth it ran. It didn't.
So, I pulled the rest of the plugs an regapped and wire wheeled them and put them back in. Still didn't sound all that great. Hubby was back out by that time and he said he felt like the cap was not on right, so he loosened it and retightend it down. I then switched the number one wire with the number 4 wire. Figuring that if it still had a miss I would check the code reader and see if it would through a different code. I figured if it threw the 301 code again, it has to be the plug, but if it threw the number 4 cylinder code, it was the wires.
Although, it appears I will be buying new plugs. As I was typing this all up and uploading the pics, I noticed that in this next pic, the middle plug appears to be broken. This plug is not the number 1 cylinder plug though.
As you can see, these plugs were Champion (looks like) RC12ECC. I'm going to go check out the thread about plugs and see what I should buy.
I guess I might as well get new wires while I'm at it. Although, all the plugs, wires, cap, and rotor are only about a year and half to almost 2 years old. Should they last longer then that? I haven't had to replace any of those things that soon on any of my other cars. Maybe I drive the Jeep too hard? LOL