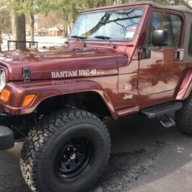 Joined

Dec 28, 2018
Messages

36
Location
I have for a while now thought about removing the tailgate spare tire & mount. For the way I use my jeep (just local & weekend vehicle), carrying a heavy "33" spare seems unnecessary.
I would only do something which is reversible in case I ever owant to go back to stock look. So I saw this item on Amazon which not only has a vent but a license place light + 3rd brake light.
A few questions...
1. Has anyone installed this brand & model?
2. If I remove the stock license plate holder, what will I have left for mounting holes? Something I can just rubber plug?
3. Is it going to be a PIA to run a plate light wire through the door &/or harness?
Any feedback appreciated.
Hooke Spare Tire Delete