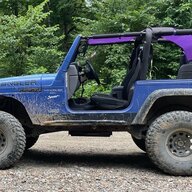 TJ Addict
Supporting Member
Joined

Oct 18, 2020
Messages

1,348
Location
XJ buddy just happened into another XJ, this one with a dana 60 rear & dana 44 up front with a 3-link. He was just going to put all that into his Cherokee, but decided maybe it wasn't worth the effort and maybe just selling the axles is the better course of action. So maybe it makes sense for me to buy the 44 off him but I probably should solicit advice. (I presume the Dana 60 rear is not even in the conversation?).
Pros
:
It's a dana 44 (I'm on a 30 right now, 44 in the rear)
already has 4.56 gears (I'm on 3.55's and a re-gear is in my future, this would cut my cost roughly in half)
I'll get it at a buddy discount, but he wants me to tell him the right #.
It's a high pinion, but maybe all 44's are HP?
Has Warn manual lockout hubs (although 1 needs rebuilt)
I need new hub bearings on my 30 anyway, so this will sort of resolve that (assuming it's bearings are good)
Cons
It's set up for crossover steering, so maybe the knuckle is bored out (I think some kits require that)

He wants the crossover steering for his XJ, so I might then NEED to buy crossover steering as well, or put it back to factory spec somehow?

It's set up for the 3 link, so I would need to remove that and have the correct control arm mounts welded in
We don't actually KNOW anything about the axle. The gears look good in the pumpkin is the extent of our knowledge
I have fresh u-joints, ball joints, & chromoly axles in my front already (e.g. wasted investment)
It's gonna be more expensive than just re-gearing the 30 I already have
Needs new rotors, not sure what else on the brakes needs attention.
Will I need a new driveshaft too?
Having written all that out, seems like just sticking with the 30 is the better option. But maybe the 44 is life changing? I would say our wheeling is mainly rocks and stuff, but that can mean different things to different people. If you're from the TX/OK area, then you know what I mean. I don't know how that compares to out west or anywhere else. So really I need help assessing if this 44 has too much circumstance to be worth it, and/or if there is a price where it makes sense given all that.