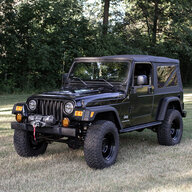 TJ Enthusiast
Supporting Member
Joined

Oct 23, 2020
Messages

104
Location
As the title states - I'm at a crossroads with my LJ and looking for some thoughts on the matter to gauge whether or not I'm crazy (well more than normal). Let me take you through it.
My LJ
: It's a 2004 with about ~104K miles, and is in nearly perfect shape. It's my dream build and no expense has been spared. Engine bay: charging system overhauled/brake system overhauled/fuel system overhauled all original parts. Interior: perfect. Undercarriage: 5.13 gears, SYE, rancho shocks, core 4x4 control arms. 1 year old soft top (so basically new) as well as a hardtop now. Obviously the list goes on, but this isn't a listing. Just trying to stress how great of shape this thing is in. Oh and not a speck of rust ANYWHERE.
My dilemma:
I hate driving an automatic, and this is the surprise to me. I didn't think I would miss the manual as much. This isn't a knock on the LJ, it's just that for my personal taste I miss my old manual wrangler. Not looking to debate which is better off road as that's a war not worth fighting, I'm simply stating my personal taste.
My thoughts:
I've lightly looked into switching the LJ to manual, but that just seems to be a disservice to the vehicle (and dumb expensive). If this thing was a manual already, I would be buried in it. But as-is, I find myself looking at manuals with envy. This LJ is worth far more than a normal TJ, it's far more rare, and I know it inside and out and have it in absolutely perfect shape. We all know how much work it takes getting all the little things done, so having a rig finally all gone through counts for something.
So am I nuts for thinking about selling it?? Would it be foolish to let something like this go? If it's a gem and it would be absolutely insane to let her go, I'd appreciate that feedback.
Appreciate any of yalls insight.
(and no - I can't just buy another TJ and keep the LJ. Don't have the garage or wallet space for that)