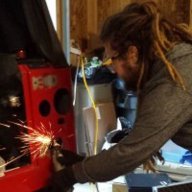 I live with my Jeep
Supporting Member
Joined

Mar 29, 2018
Messages

7,433
Location
@Mrs Tox
and I decided that we wanted to go after some big dreams of ours.
So we did.
The biggest of those is living months at a time away from home offroading around the country. For that, we needed a place to live and a way get to the trails comfortably in all seasons with our cats. So we set about figuring out how to make it happen. (If you want
the full backstory and to see all of the options we considered I have a whole thread on that.
)
To better tailor to our needs I thought through everything I could think of and came up with a list of many unique features and custom specs we wanted that many dealers refused to work with me on. Mike at Ocala Trailer was great to work with and didn't make me feel bad for my dreams. He spent many hours with me coming up with this build — if you want something unique he's the guy to talk to. I'm not getting paid to say that or any discount, I just think it's rare to find other people who value your dreams and that should be recognized. Some parts for the trailer are so custom that Sundowner isn't able to do it. For those I will be providing those parts myself or fabricating them and installing after we pick up the trailer.
We decided on the shortest possible floor plan that would work for us so that we can be as nimble as possible. That includes a 20ft garage with a workbench, storage for tools, and on board generator. Because I might not be back at my home garage for a while, it is important to me to be able to bring tools and parts along to fix my rig so a wheeling trip doesn't get ruined if something breaks. The living quarters is 10ft + 8ft bed over the gooseneck and has a shower, fold out couch, and kitchen. It's insulated, heated and air conditioned so we don't die from the weather when driving from WI to hot southern states. Many places we want to wheel such as Johnson Valley don't have campgrounds nearby so being able to boondock (camping without electric or water hookups) was a priority, so there's onboard electricity and gas reserves to be self sufficient for a minimum of 1 week even under the hottest or coldest conditions (2 weeks under normal conditions).
The heater runs off of propane, and everything except AC and the microwave runs off 12v battery power. All lighting is LED to save on power. We're adding solar panels to be able charge the batteries every day automatically without having to run the generator. Worst case, the generator or truck can charge the batteries. If we determine that we need more heat, I will look into adding supplemental heaters.
Well, that covers the summary, but once we pick it up in September/October I'll be sure to share more details.
Floor plan:
The build started this month. Here's the progress so far:
Last edited: