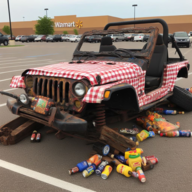 Your Jeep's name is Karen now.
Supporting Member
I have the MC trackbar and a D44 W/ 4.5 in of lift. Would I just be extra sure my bumpstops are correct to prevent damage?
There is no need to guess. If you remove the coils and jounces to cycle the axle, you can see if there is interference. This is the very same process Alex just went through. If you go through the process, the bump stop extension will be only as long as it needs to be.