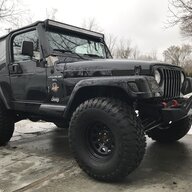 New Member
Supporting Member
Joined

Apr 8, 2020
Messages

8
Location
Hey guys, working on a slip yoke eliminator kit. I got my transfer case out with some good fighting but now I'm stuck again.
It looks like there is a weight on the output shaft but I don't know how to get it off to get to the next seemingly impossible step of this DIY SYE install.
Let me know if I need to go rent a puller or if I can just hammer this thing off, or how I should tackle this thing..
Thanks for your help... again..
Last edited by a moderator: