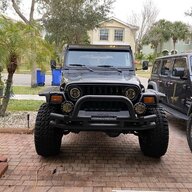 Joined

Aug 11, 2020
Messages

145
Location
My brother left his Jeep with me so me and my dad could take it to get the trans oil filter replaced, so for him to commute around for the next couple of days I let him use mine.
He calls us 20 or so minutes after he leaves and says that white smoke is coming from underneath the body and for us to come ASAP; we show and the transmission fluid is all over the under body and even splattered on the rear bumper.


Called up a mechanic friend and he said it could be just a seal or that it overheated, or the entire trans just has to be replaced. If it is either of the last two I don't know if I would even be able to afford it. Really hoping that it is just the seal.

If anyone can think of anything else it could be, my trans is the 32RH.

I'll post pictures when it is towed back to my house.