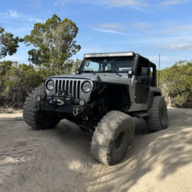 New Member
Supporting Member
Joined

Jun 1, 2021
Messages

22
Location
Hello all,

I currently have Truetracs front and rear which have served me well. I'm thinking of swapping 1 out for either an ARB or E Locker so that I have a true locker. My initial thought is to keep the truetrac in the rear and put the locker up front. What do y'all think? Is it worth the extra cost to do both?

My jeep is 80 - 90% off-road and 10-20% on road. The vast majority of my offroad driving is in mud and water crossings with maybe once a year of rock crawling for a day or two.

Last part being which locker would y'all recommend? I like the idea of the OX locker since driving through mud and water could pose issues for the air line and wiring for the other two lockers. I would think the OX cable would hold up better. Plus it can use the drive away lock if the cable does fail where the other two would be inoperable.