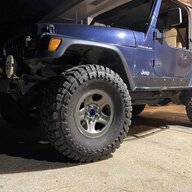 Joined

Sep 24, 2020
Messages

79
Location
I am scrapping my old build thread and starting a new one that's a little better thought out and more to the point, so this might look familiar to a few people. To those who are newcomers, welcome.
The quick backstory: I've been into off roading since I was taken on my first trail ride in 2001 and have been hooked ever since. My actual wheeling experience had been limited to web-wheeling and riding shotgun with friends up until I graduated from Auburn in 2016 and bought a clapped out 2004 Yamaha Rhino with a +6" long travel setup. The Rhino was fun, but I'd still always wanted a Jeep and a friend's 1997 TJ came up for sale in May of 2019 so I jumped on it.
This first post will bring you up to date from over 2 years of ownership and what led me to the build that's about to start. There's not too much real 'tech' to be had as much of this has been maintenance related and added creature comforts, but there's a place for those things as well. If you want to take a look at the old thread that goes into more detail,
HERE
is a link.
Spoiler Alert: Just so I don't lose anyone right off the bat, the Rhino has been sold and there is a literal pallet full of parts and a 5.9L Magnum waiting to go onto the TJ as I'm typing this. But first, the history of my TJ:
I drove from Birmingham to Carrolton, GA with an empty trailer and pocket full of cash to pick the Jeep up in May of 2019. The Jeep was a 132k mile 97 TJ SE with the 2.5L and 5 speed. The PO had owned the Jeep since 2004 and had been mainly used as a grocery getter and hunting rig. The only modifications it had was 31x10.50 Kenda Klever MTs, 2.5" RC lift and a 3" body lift. Overall it was a pretty clean rust free TJ that needed some TLC. Here it is the day we brought it home:
I originally intended for this to be a reliable stock-ish daily driver and mild weekend toy. In my pursuit of that, the following has been done to the Jeep:
ZJ rear disc brake upgrade to replace inoperable rear drums.
Replaced 3" body lift with 1.25" body lift
Painted the fender flares with Krylon Fusion satin black
Busted radiator fan shroud replaced with a Mishimoto electric fan
Barnes 4wd rocker guards and custom slider installed
Added a Superwinch TS9500 on an Amazon winch plate
Installed flush mount LED pods in the rear bumper
Installed new JVC KD-X35MBS
Installed Noico 80mil sound deadening
Replaced the horrendous Rough Country shocks with Rancho RS 5000X
Installed Polk DB652s in the dash and sound bar
Installed Moab wheels with 305/70 Toyo MTs
Bought and sold a hard top
Replaced the 9 year old Smittybilt top with a Bestop
New Cooper 305/70/16 STT Pros installed. (Best tire ever, IMO)
Installed Rugged Ridge Dash Multi Mount System
Installed Savvy transfer case shifter
Rebuilt the front drive shaft
Installed 1.25" Spidertrax wheel spacers
Installed Amazon Truck-lite knockoff headlights
Installed a full center console
Replaced the intermediate steering shaft
Here it is now:
Post #2 incoming.