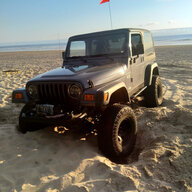 Sketchy Machinist
Supporting Member
Ride of the Month Winner
Joined

Jan 8, 2021
Messages

653
Location
Hello everyone, some of you might remember me from Jeepforum and my Wingnut Build, I kind of stopped updating it after a while and lost interest in that forum. Trying to get back into the swing of things and figured this might help keep me a little motivated to get my projects done. It's good to be back.
I never stopped working on the Jeep though, in fact I bought a second one. A 1979 J10 that was running when I hauled it home, the plan being to drive it around while I worked on the TJ, though things never seem to go according to plan. I drove it around for a little bit, getting to know the good and bad of my biggest purchase ever. Originally I replaced the main and rod bearings, the oil pump, fixed all the leaky gaskets, rebuilt the carb and with the help of my grandpa got everything running really well, nice quiet idle, very smooth even if it only had 80hp.
Then I learned what blow by is, and why I should've investigated that before fixing everything else. After sealing up all of the engines oil leaks, it began to come up and out of the dipstick tube, after riggin up a hose to a catch can from the junk yard, I was able to drive about 15 miles or so before needing to stop and dump 2 quarts of oil from the catch can back into the motor, not a very long term solution.
So I scrapped that plan, bought a gen 3 4.8 LS, 2wd 4l60e, harness and all the necessary swap parts off of craigslist with about 180k miles. New plan, rebuild the motor and swap everything into the truck. Blew the motor apart down to the bare block, bagged and tagged everything, and began to realize the motor needed a decent amount of machine work, and that I wasn't going to convince myself to put it back together without a fair amount of new parts and machine work. I still have my spreadsheet of parts for a bored out 5.1, totalling a couple grand in parts, tucked away here on my laptop.
New plan, found another 4.8 on CL, 90k miles, pulled from a running chevelle in favor or a new 6.0. Drove 5 hours down and hauled it back home in the back of the TJ for just $500. It is currently sitting in the truck with a 2wd 4l60e that may or may not work. Got it mounted with some Advanced Adapter Motor mounts for a CJ I think, they were for a frame width an inch narrower than mine, stacked some plates on the inside of my frame rails and milled out the slots at work a bit to get my some extra width.
That was about a year ago, I've made some progress on the fuel system, wiring harness, exhaust and some other parts of the swap since then, I'll detail those in future posts. It's a long project, but I'm finally setup to start working on it again here shortly, for now here's some pics of the truck when I bought it a few years ago. Yes that's black bedliner, yes I absolutely hate it, and yes it's a giant PITA to remove.
P.S. still trying to figure out the pictures, sorry if there huge lol
Last edited: