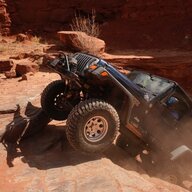 Joined

Sep 16, 2018
Messages

92
Location
I'm trying to plan out my upcoming build on my '05 LJ; assuming I can fund it. And while I'm not planning on doing a tummy tuck at this point, it definitely is something I'd like to do in the future. Which is why I'd like to make sure that the first part of my build won't be wasteful in the future.

So the first is the transmission. I've got the 6 speed manual NSG370. It pops out of first gear if I don't hold it in place, seemed to start after my father got rear ended before I bought it from him. But, it sounds like a somewhat common thing to happen with those trannys too. Anyway, at some time, I'd like to get that fixed. Not high priority for me, though. I thought that you had to drop the transmission to do a tummy tuck, so I figured I'd do them together, to save labor cost. But after looking at it some more, it doesn't look like the tranny is involved at all. Is this true? That way, I can do them independently. Or rather, maybe you have to remove the transfer case to remove the transmission?

Second is the driveshaft. I was hoping to get away with not needing a new driveshaft even with a 4" short arm, being that I have an LJ, but I think I'll just go ahead and do it to be safe. And a SYE, of course. But I gotta wonder, if I do the tummy tuck later on, will the driveshaft I got for the 4" lift still work? I'm hoping so, especially with LJs seeming to be more forgiving in that area. Or, am I just over thinking it?

Thanks.