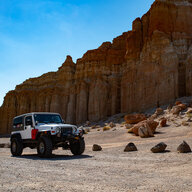 TJ Enthusiast
Supporting Member
Joined

Oct 19, 2021
Messages

721
Location
Guess I'll find out, but wondering if I might have been better off replacing the transfer case skid with the UCF as a match to the engine skid.
Thanks for the heads up.
It's no problem. The stiffener I just cut a 1" section out then welded a piece to the back of the stiffener and that was enough clearance for the nut. You might be able to move the skid a bit forward (1/2" would of worked) but I started on the driver side. Mine is a Saavy also but they look identical. I looked for pictures but I didn't seem to take any. The Saavy bolt all go side to side, I see now the UCF bolts go front to back. You should be able to drill one in front and 1 in back of the stiffener on the right side.
Last edited: