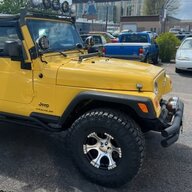 TJ Enthusiast
Supporting Member
Joined

Apr 30, 2023
Messages

324
Location
I am learning about the relationship between the size of the tires and gearing to understand how it fits together, Do I have this right?
My TJ came from the factory with 3.73 gears and P225/75R15 tires
Those original tires have a diameter of 28.3" according to this:
225/75R15 tire specs, conversion, pressure chart, replacement sizes.
tirecalculator.com
This chart shows for 28" tires and 3.73 gearing the RPMs at 65MPH are 2909:
Upgrading your axles? Find your ideal gearing in this TJ gear chart.
To achieve the closest RPMs (and therefore similar performance and fuel economy) for various tire sizes the gearing needs to be:
30" = 3.91 (2847 RPM)
31" = 4.11 (2896)
32" = 4.27 (2915)
33" = 4.27 (2825)
?
Thanks, Andy