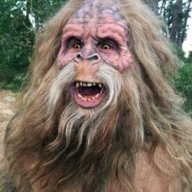 Joined

Feb 9, 2019
Messages

736
Location
My current setup 3.5" SL 1.5" BL. Hi line fenders. 35" tires.
I currently have 4" uptravel in the front. That leaves 5.5" down. It has been this way for about a year. I do use all 4" on the road, although I never feel any jarring from bottoming out. My front springs unloaded are 20" and unseat 2" before shocks are fully extended.
I have 3-1/4" BS for shocks and track bar/diff clearance.
If I shorten my front arms more to clear TB and drop my BS to 2" my tires hit the rear fender well.
I could do something custom with track bar and or mount, then extend my shock mounts. Getting me to a 2" bump stop.
I reference 2" BS as a goal, as it seems less than that we start to see lots of steering related interference?
So is all the fab work worth 1" more of uptravel?
Or should I just install a longer spring that will not unseat at full droop and live with 4" of uptravel?