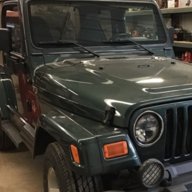 TJ Enthusiast
Supporting Member
Joined

Mar 8, 2019
Messages

123
Location
Forgive me if this has been covered elsewhere. I did do a bit of searching here before posting but I may have overlooked something.

I'm looking for options to prevent the *entire vehicle* from being stolen. Does anyone have any suggestions? I'm open to something as simple as a hidden ignition cutoff switch or an actual alarm.

My PO had installed a generic alarm with pager, etc. but when I bought it, the alarm no longer worked, so I took it out. I am also putting in an aftermarket stereo, but all but the head unit should look stock. I have a Clarion M508 in there now, but will be replacing it with an older Alpine model with a removable faceplate which I plan to store in a tuffy under seat lockbox. I've thought a fair bit about keeping the stereo in the jeep, but I'm curious what others are doing to keep the jeep from disappearing.