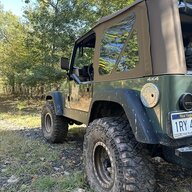 Joined

Dec 30, 2018
Messages

714
Location
A little over a year ago I found a deal on a Warn Rock Crawler rear bumper/tire carrier for $150 on Facebook Marketplace. The ad said it had some rust but was still in decent condition. So I hopped in the truck and drove about 2hrs one way to get what I thought was a fairly clean setup. I get there only to find out it was a crusty mess that was outside behind the barn for 2yrs. But, all things considered I went ahead and bought it since I was already there and knew what they cost new.
Unfortunately I don't have any pictures in its "crusty" stage but this was after getting all the old powder coat and major rust off
Ive never used POR-15 so I grabbed their 4oz kit and gave it two heavy coats after prep. Much too glossy for me to leave alone, plus it needs a top-coat due to lack of UV protection. But I have to say it looked good like this. It's crazy how this stuff levels itself out and dries HARD.
Next I hit it with Rust-Oleum Self Etching primer and finished it off with my favorite stuff, Rust-Oleum Truck Bed Coating. Couple coats of primer and 2 coats of bed liner, then let it cure out in the sun for a day before bolting everything up.
To give you an idea of what everything looked like before. This is the original hardware and frame tie-ins that came with it
And after a good sandblast and primer treatment
Also grabbed some new tie-ins off eBay from Pocono Metal Fab. Nice brackets for $45, but they come raw steel and no hardware. No big deal, $10 trip to Lowe's got me everything I needed.
And a before shot to show the difference in clearance. Notice you can just barely see the factory gas tank skid
Last edited: