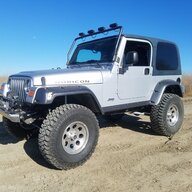 TJ Enthusiast
Supporting Member
Joined

Mar 9, 2021
Messages

170
Location
Hello All.
Long time lurker-new member!
I've bought this 2003 Tomb Raider Rubicon in October 2018. She had 57,000 miles on the clock when I bought her. 16K cost.
I must say, I've wanted a jeep for much of my adult life, but life itself got in the way. (Kids, house, starting a business...,then after school sports, cub scouts, bows and arrows, it just never stopped)
However, kids all grown and moved on...
The very first REAL statement I must say is, "Thank you to all who post in this forum". I feel I bought my first TJ very well, after reading for months what to look for and what to avoid. I rejected several wet-rusty framed junk here in WA.
I owe that all to you!
Once I decided I was going to buy a jeep, I already had a build plan in mind. However, this happened: I followed along the Wrangler TJ forum, where everything recommended part wise seems "gold plated".
You all know what I'm talking about. It took me two tears to gather parts and funds, then...Wait for it...
I reached out to a famous forum member who agreed to take my heap on and install a shit ton of parts.
So, as of today, my heap has been gone for almost three months while I waited patiently.
Tomorrow my jeep gets loaded up and heads back to WA. It should be here Wednesday, then let the real fun begin!!!
Mike