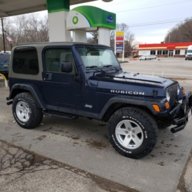 TJ Addict
Supporting Member
Lifetime Supporting Member
Joined

Jan 17, 2018
Messages

1,294
Location
Pretty soon, my TJ will be paid off. Woo-hoo!
But she is a 2006 and isn't getting any younger. Parts are getting harder to find - like that heater core I still haven't bothered to get installed.
So, I went to a dealer today and talked to them about a 2023 2 Door Rubicon (in blue) that I optioned out on the website.
I'm attaching the part list I had - they say it's about 3-4 months until delivery.
I haven't committed to anything yet, but I did ask a lot of questions. I also test-drove a 2 Door with the 2.0L engine and automatic transmission. Drove quite nicely!
There are so many creature-comforts that my TJ doesn't have - like bluetooth, power windows/locks, etc.
I'm going to do a deep-dive on my finances and see where I stand - I shouldn't have any problem with the payments, but it always helps to double-check. It's also a bit intimidating as it would be the first new car I've bought in my life.
I think their website said a little over $6k for the TJ in trade - but I don't have the back seat, that's in Ohio. And it needs the heater core replaced. Other than that, she runs just fine. I think I could get more selling it private party than using it as partial trade. What do you think I could get for it private party?
Anyway... Yeah, that's what's on my mind right now. lol