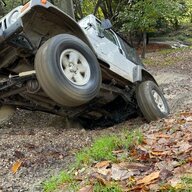 Joined

Dec 30, 2020
Messages

872
Location
You're not flush with cash I'm guessing. Consider where you want your build to end up and what it NEEDS to be. Purchase accordingly toward that goal. If you want currie/savvy, don't buy the Zone arms along the way only to replace them later. Save money until you can afford to do what you want. Doing it in steps is a great approach.
Or your keep eyes posted for a used set from someone upgrading.

An example: My future son-in-law bought a cheap ass tonneau cover ($200) for his pickup truck. Couple years later and its destroyed by wind and snow. He replaced it with a truxedo lo-pro $500. But he's got $700 spent now. Save and do it right.
Was watching one of the many home building shows we seem to have on TV in the UK. Couple were cash strapped, chap explained his approach was do it properly or do the absolute bear minimum. That way he has not created a halfway solution they end up just living with because it is "good enough". As you suggest, that seems like a sound approach to me.