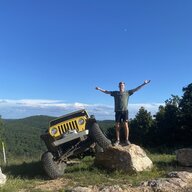 Joined

Jan 15, 2020
Messages

187
Location
Hi y'all!
I'm planning on making my pilgrimage to the holy land at Easter Jeep safari this year, and I'd like your input on two questions I have:

1. What difficulty rating of trails can my TJ (and myself with not much offroad experience) handle at Moab? (without damage, because it's my ride home too)
It's a Rubicon with a 3" coil lift, 265/70 17 Duratracs, otherwise stock.

and 2. What equipment should I seriously consider bringing with me or adding to my Jeep to be better prepared for the trails?
-tool set, water, recovery points, recovery straps, CB radio?, oil, coolant, ATF for PS, fire extinguisher already on the list

I don't want to miss anything, and as I'm doing my homework for the trip, I'd like to hear some advice from people with experience at Moab/EJS. Thanks!