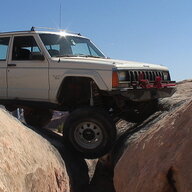 Joined

Feb 2, 2020
Messages

75
Location
SecondChanceTJ said:
Hi y'all!
I'm planning on making my pilgrimage to the holy land at Easter Jeep safari this year, and I'd like your input on two questions I have:
1. What difficulty rating of trails can my TJ (and myself with not much offroad experience) handle at Moab? (without damage, because it's my ride home too)
It's a Rubicon with a 3" coil lift, 265/70 17 Duratracs, otherwise stock.
and 2. What equipment should I seriously consider bringing with me or adding to my Jeep to be better prepared for the trails?
-tool set, water, recovery points, recovery straps, CB radio?, oil, coolant, ATF for PS, fire extinguisher already on the list
I don't want to miss anything, and as I'm doing my homework for the trip, I'd like to hear some advice from people with experience at Moab/EJS. Thanks!
Your rig should be capable of everything you are comfortable doing on the trail and then some. I'm sure you will be checking fluids and under the Jeep to make sure everything is in working order for this big of trip. Get the portable air source as suggested. Not a bad idea to bring extra spark plugs, ujoints, brake fluid, and even a set of front axle shafts. Don't worry about SYE and clearance concerns until you wheel it enough to know it will make a difference. You should only need the lockers briefly on certain parts of the trail and utilize 4 low. Study the lines the other rigs take and you'll know who to follow... Enjoy!
This is completely accurate....excellent advice! Also, bring a hat, gloves, hand solvent, rags, sun block, 48" farm jack, bailing wire, electrical wire and tape, duct tape, knee pads, crawl rug and folding chair, tire pressure gauge and airdown valves. If you bring all the stuff, you'll most likely never need it; if you don't, you'll need all of it. "You should only need the lockers briefly on certain parts of the trail" I especially like that advice as there are conflicting opinions regarding when to use lockers. Also, to prevent axle breakage, be sure to release lockers when turning. If you're still spinning in a turn without forward progress, briefly engage rears to nudge you forward until straight then you can reengage both if needed. I've done nearly every trail in SE Utah in my vastly less capable XJ and only recall once needing that maneuver climbing the Z turn on the Rim. When I arrive in Moab, I disconnect at my parking area and reconnect when I leave to return home. If you plan to make 60mph leaning turns on tarmac, yeah you should connect. Your life's fun is indescribably enhanced in a Rubicon.
Last edited: