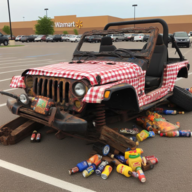 We are MegaJeep!
Supporting Member
Ride of the Month Winner
Joined

Feb 17, 2018
Messages

21,203
Location
I don't think this is mainly due to geometry issue, but the rear locker. It keeps pushing, and if you're in an auto and don't slip into neutral or a manual and don't push the clutch you'll keep going. Braking is a no no. Gassing it just exacerbated the problem. Going downhill is obvious. Getting sideways is dumb. Love how the dogs escape.
Correct. If the locker wasn't there, most of those guys wouldn't have gotten themselves into a position to back flip in the first place. They should remove the locker.