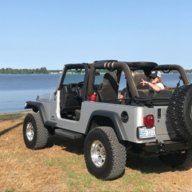 🇺🇸 JEEP 🇺🇸
Supporting Member
Joined

Mar 12, 2019
Messages

418
Location
Wanted to branch off from the 'What did you do to your TJ today' thread to give LJ owners a place of their own to post. With @Chris's blessing, here we go.

I'll start. Completely overhauled the cooling system in my LJ. Triple drained and flushed existing system with distilled water, completely tore down cooling system down to the block, scraped all gaskets, polished mating surface for new thermostat and water pump housing, installed new Mopar water pump inlet tube on new Mopar water pump, installed new Mopar water pump with Mopar gasket, cleaned water pump pulley and reinstalled, installed new Mopar fan clutch, installed new upper and lower Gates radiator hoses, installed new serpentine belt, installed new Stant Superstat thermostat, installed new Mopar temperature sensor/sending unit in a new Mopar thermostat housing, installed new Mopar thermostat housing, installed new Gates heater core hoses, installed new transmission fluid lines to a new Mopar radiator, installed new Stat radiator cap, installed new Mopar overflow tank, refilled radiator and overflow with a 50/50 dilution of new Zerex G05 and distilled water. Ran Jeep (in place in garage with no air flow through grill) and heat worked great. Temp stayed below 200 with A/C on. Going to let cool overnight and check levels again tomorrow. Saving all old, original parts as spares.

If anyone had any questions please don't hesitate to ask.

Cheers!
Last edited: