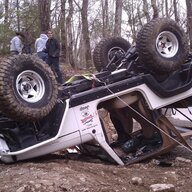 TJ Enthusiast
Supporting Member
Joined

Nov 5, 2020
Messages

627
Location
Wallered Out - excess wear caused by metal rubbing due to loose connection or misalignment causing damage to said part.

What a waste of words damn man the damn things " Wallered Out "
I bet the threads on the shaft were "buggered up" too.
I work for a manufacturer that produces large machinery for the woodworking industry. Companies that make flooring, windows, doors, etc. All hardwood companies. One of my new techs came to me and asked: "What does Wallered Out mean?" I just laughed. They don't teach that stuff in college. LOL.