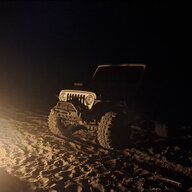 TJ Addict
Supporting Member
Joined

Jan 2, 2020
Messages

2,380
Location
Got back to my dog and my rig today.

Dog got attacked by a coyote who luckily ran away after I yelled at it like a psycho. It rolled her but she seems ok.

I found a hole torn into the cover of my Jeep tonight. The interior was filled with rat shit/piss. Lots of it and I wasn't happy. I'll be doing a more extensive cleaning job tomorrow and praying I don't find any more surprises.
Thats odd a single coyote would do that?
Might want to take the seats out so you can really get at em with a carpet cleaner and odor neutralizer