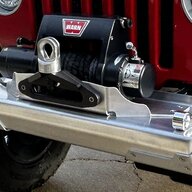 The Jeep Guy
Supporting Member
Ride of the Month Winner
I think I'm nuts...

These are my seat bases. Before I put them back together (from foam replacement) I wanted to clean them up. The factory did not put any coating on the seat frames or bases. So...even though they are inside the vehicle and my interior is in really good shape, they are rusty. Just surface rust, no pitting, but fer cryin out loud...Its a Jeep, its gonna get wet. Why there is anything unfinished is beyond me.

Before (passenger side)

View attachment 71416

After (Driver's Side)

View attachment 71417

No one will ever see these...but I'm spending an inordinate amount of time making these pretty.
Mine are the same way and it drives me nuts. I've been wanting to clean them up and paint them for months. When I do my seat heaters, I think I will.