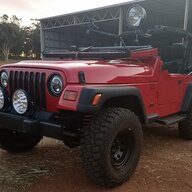 Joined

Dec 27, 2021
Messages

113
Location
Later this year I want to start building a 4.6L stroker. My current 4.0 (1999 TJ Auto) is in good condition (despite recent coolant issues!) and I want to have the new one built and ready to swap straight in so using my existing engine isn't an option.

So if I'm going to find a donor engine to do a complete rebuild on, what should I look for? I'm guessing the first thing is to avoid a 2000-2001 head, right? I don't know yet how far I will take the stroker build but I thinking it will be a mild build so unlikely to be a new aftermarket head for instance.

Would it matter if the donor core was a - say - 1996 engine out of an XJ or a 2005 out of a TJ? Given I want the swap to be as easy as possible I want to avoid complicating factors like different engine mounts or manifold layout...