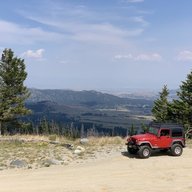 Joined

May 20, 2019
Messages

41
Location
I found a hp30 for $150 obo. I think it's from an XJ. I'm waiting on the build tag to confirm what it's from.
I'm thinking of offering $100. It's complete rotor to rotor. Not sure that matters much since I would rebuild, re-gear, and truss it anyway.
It would be a 225 mile round trip to pick it up.
Assuming it's not bent or otherwise damaged, is $100 a reasonable price?
What kind of damage or faults should I be looking for? How can I tell if it's slightly bent?
Are the CV joints an issue, or would they get replaced with the axles anyway?
I'm just trying to make sure this is worth buying and building, or if it's a pass.