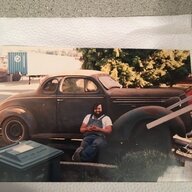 Master Thread Derailer
Supporting Member
Joined

Oct 25, 2017
Messages

10,134
Location
Added to the fleet today.

View attachment 409300

I learned of an old hole in the wall hobby shop about twenty miles from us. Mrs.Cheesy talked me into going to see it. I walked in and was kind of underwhelmed by what I saw. I did find some NOS T-jet silver brushes, silicone tires, and a couple of top plates with armatures. The owner asked what else I was looking for, so I told him. He told me to open the door to the back room.

Oh My God. There were AMT, Revell, Monogram, Lindberg, etc, etc, car kits. Hundreds of them. Also hundreds of HO slot cars and model rocket kits. Jeez, I was 12 years old again. Mrs. Cheesy told me to go nuts. Three of the cars, the blue CJ, burgandy Javelin, and black Studebaker(Stupidbaker

) are Autoworld T-jets. The AMC bodies are Xtraction models, the Stude is a basic T-jet and slower than the 50+ year Firebird. The red Mustang is a Life Like brand. Never seen one and it was the cheapest of the bunch. It's also the fastest. By a lot.

I may be going back on Saturday. There was this 1960 DeSoto Adventurer convertible kit...
Close-ups of these, please! Not too often you come across something like this. Very cool! Did you happen to notice if any of the model kits were JO-HAN? They had some of the most obscure model selections around, including the AMC Marlin.