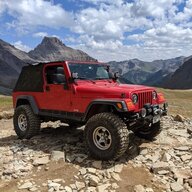 TJ Enthusiast
Supporting Member
Joined

Sep 26, 2019
Messages

953
Location
What's up with the better mileage at higher elevation? I can get 18+ MPG running 35s on mountain highways in SW Colorado, but struggle to get 13 MPG down on the plains.
I've always assumed it has to be the fact that for every mountain you go up, you go back down and using almost no fuel on the downhill more than offsets the extra you had to use to get up.
The only other thing that could possibly explain it is maybe there's something in the ECM fuel tables, or missing that causes it to lean out a bit at elevation. I'm not an EFI guru, so it comes with a grain of salt, but I would think that since MAP stands for manifold
absolute
pressure, it wouldn't care what elevation you were at. There's no humidity sensor, and air density does increase with decreasing humidity, so it might lean out in very dry air as is common in the Colorado Rockies. But it would be such a very, very small amount that I don't think it would produce a noticeable change in fuel economy...especially since the EFI engineers didn't think it necessary to adjust for in the maps.
Last edited: