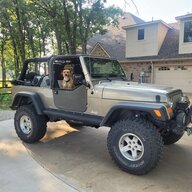 TJ Enthusiast
Supporting Member
Joined

Dec 25, 2019
Messages

242
Location
Martynt74's post about his first Jeep made me think about mine: A '76 CJ7 with a 304 V8, Turbo 400, and Quadra-Trac 4WD system. It was 1982 and I was 20, and all I wanted at the time (besides my girlfriend's smile) was a Jeep.

That girlfriend didn't last, but my affinity for Jeeps certainly did. There's been quite a few Jeep vehicles since then.

What was your your first Jeep?
Last edited: