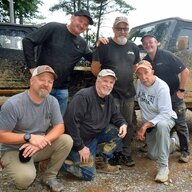 TJ Expert
Supporting Member
Joined

Jun 10, 2020
Messages

4,163
Location
Every MFG. was struggling with emissions and everybody had 500' of Vacuum line in every car. My new 83 GMC 2.8l V-6 T-15 had an amazing 115 h.p. to go with 500' of vacuum line.
Best move I made on all my CJ's was to pull the factory 2 barrel and install a 2 barrel webber carb.
Always carried WD40 to spray out the distributor cap after a fast water crossing too.
But lord no CEL, no ECM and no O2 sensors sure was freaking nice!!!!!!