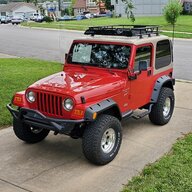 TJ Enthusiast
Supporting Member
Joined

Jan 3, 2019
Messages

528
Location
By the way, I am a member of a CJ online group based in Georgia, and good lord the low rust CJs they have down south for reasonable prices, I drool every time seeing one posted for sale.
I spent a year, deciding on an Expedition. Couldn't decide between first gen (97-02) or second gen (03-whatever). Pros and cons to both. Looked at a lot of first gens but the rust seemed to be, well, hard to find one without. Thought I had one up in Nebraska, but the guy was out of town and it was at a shop having a flat fixed and he'd call me and when I called him a couple days later, he'd sold it. That's when I decided to go second gen AND go south. Missed a couple in Tulsa, etc, and had been watching one for a month in Fayetteville, when mine came up. Figured I'd have a couple shots if one didn't pan out. Local detective that also carried a dealer's license. Was able to piece together warranty history through work and had a pretty good idea of its history. Now, had no idea if the owner had been pulling a 30ft travel trailer for 160k miles, but everything else was clean. No footprints on the headliner, no weatherstrip whistles....etc.
Geep4me... Haha! Yea it's kind of a crap shoot, you never know what your really going to be walking into. I've gone chasing great craigslist ads only to find out the pictures were from 10 years ago. Lol
Back around '91-ish, I was looking for a '69 Charger R/T. Had to be a real R/T. Already had a '69 but it was rusty and not an R/T. Guy out in Hays at the time, big into Mopar. Had lots of stuff. I followed a couple ads for several months in Hemmings Motor news and finally decided, after the prices had come down over time, to inquire about one in particular. He mailed me pictures (that's how we did it in the old days..35mm....envelopes....stamps....) and the pictures showed up. They'd started the bodywork, pulled the vinyl top off, sanded the roof down, part of the hood, parts of the passenger fender and door. I decided to drive out and look. 5 hour drive just to look. Get out there and the car had been left, probably right after the pictures had been taken and every place that was shiny bare metal in the photos was now brown rust. (sigh) Mopar collector doing that to a rare care.......grrrrrrrr! Ended up buying it some time later.
More on the Focus wagon in a bit.....