Hi all,
since I'm about to replace my radiator while replacing my broken water pump on my 2002 TJ, I was wondering when a complete transmission fluid flush is actually necessary. I did some reading here and the process seems not to be super simple to do at home, if I want to do a complete flush - dropping the pan, replacing the filter and gasket and pumping the old fluid out.
My TJ has about 40.000 miles and the transmission fluid is still quite clear and red (I guess? picture from dipstick attached).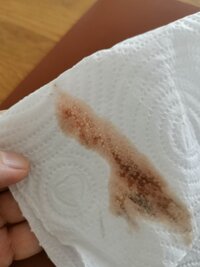 I own my TJ for 6 years now and I have zero information what the previous owner did (bought it with 24.000 miles). When I read here in the forum people start talking about transmission flush are always talking about 100.000 miles plus on their Jeeps. I never of-road and my avg driving distance is 10 miles max, since I live on a small island.
I don't want to break things that are actually working fine (and don't leak) - but I also don't want to break things by skippig important maintanance
Regarding Google I've found a statement from Chrysler to replace the trans fluid every 2 years and/or 20.000 miles.. but yeah.. why not just buy a whole new Jeep every two years to support Chrysler :-D
Is there any point in only replacing the fluid that runs out when I replace the radiator with new Valvoline ATF+4 (the only option I can get here in Thailand), or is that just a half-ass move that doesn't do much and is basically a waste of money if I don't flush it all?
Seems
@Chris
and
@Jerry Bransford
are experts on this topic.. as with any topic 😬😊
Thanks,
Michael