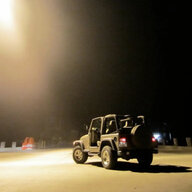 TJ Enthusiast
Supporting Member
Joined

Oct 23, 2022
Messages

161
Location
Instead of posting multiple threads to ask questions about my very minor upcoming build, I thought it'd probably be a good idea to make one main build thread and put any/all questions in here. Some of you may have read in my previous thread regarding lift/wheel combos, but I'll start with some backstory.
Back in the 70s when my uncle graduated from high school, my grandfather took him to the local Jeep dealership and he got to pick out a CJ-5 of his liking. A year later when my dad graduated, he got to do the same. Uncle picked yellow and dad picked lime green. My dad drove that '76 CJ-5 for about 12 years until it was time to trade it in for something more functional for a dude with a wife and 3 small kids.
Fast forward to 2001. My sister is in 12th grade and my dad surprises her with an '01 Wrangler Sport. Patriot Blue with tan top. Then, 2004 hits — my senior year. One day, my parents call me into the garage and there sat an '04 Sport in Light Khaki Metallic with dark khaki top. It sat for another 4 or 5 weeks, too, because in my little bit of experience practicing stick I was too nervous to start driving it. Ha! That Jeep was my absolute pride and joy and the one I have the happiest, easiest, and most fun memories in. Anyway, the tradition continued with my brother who is the youngest and obviously the favorite (I'm only half joking
) because he somehow ended up with a Rubicon.
I'm the only one the Jeep thing stuck with; I went on to drive a 2011 JK and then eventually had a fully restored '86 CJ-7. Kind of an ode to my grandparents who started the whole tradition. Two weeks ago I sold that Jeep to fund the purchase of my newest pride and joy: a 2004 TJ in Light Khaki Metallic with dark khaki top. With only 6000 miles on it, it's a true needle in a haystack. Kind of stumbled on it last month and knew I had to jump at the chance. I always said the only way I'd sell my CJ would be if I could have my very first Jeep again and this is about as close as I'll ever get.
It arrives from Texas sometime in the next few days and I've got couple things to do until it looks how I want it to look: just as it did back in 2004. Here's my task list:
1. Install OEM side steps — already grabbed a set in awesome condition from FB marketplace. They've got a tiny bit of flash rust on the brackets but I'm going to hit it with a wire brush and slap on a coat of Rustoleum before putting them on. Other than that, they look brand new. Guy pulled them from his '04 a year after he got it and they sat in his attic since.
2. Install OEM fog lights — was doing a bunch of research on this last night and it could be harder than I anticipated. From what I gather, I need to check and see if my '04 is pre-wired for them. It didn't have them from the factory, so I'm not sure how I'll fare on that one. If it isn't pre-wired, not sure what to do. If it is, I plan to grab some OEM fogs along with a set of pigtails..and possibly a new multi-function switch? Swapping that feels a little above my skill level, but we'll see. Need to get it here and see what's up before I formulate any real plan.
3. Drop 3" suspension lift to 1" body lift — I know there wasn't a body lift on my original '04, but I'm going for a SLIGHTLY more aggressive stance than I had back then. Leaving this work to my local Jeep shop.
4. Swap 33" tires and 17" wheels for 31" tires and original 15x8" Ravine wheels — currently scouring the market for the wheels and will purchase some BFG A/Ts once I land them. This will also be done at my local Jeep shop.
5. Some sort of undercoating/tub protection — originally intended on getting the inside and underside of the tub color-match lined, but unless that is done with a perfect prep job I know it can cause more issues down the road. I'm leaning towards yearly Woolwax instead but would love any input from those with experience.
I think that should do it. I know, I know — famous last words. Ha! I hope to have all of this complete by spring so she's ready to roll once the weather turns. Once it arrives I'll post an official before pic as well as a picture of my original '04. Thanks in advance for answering all the questions I'll have!