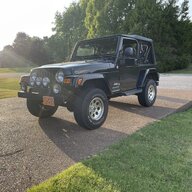 TJ Enthusiast
Supporting Member
Joined

Feb 2, 2021
Messages

148
Location
Several months ago I swapped a set of 35/12.50/15 M/Ts for 33/11.50/17 A/Ts. With a reinforced carrier, the 35/12.50/15 M/T mounted without issue (weight and tax on the tailgate aside).
Now that I have removed the 3" body lift and without the deep-dish backspacing of the previous 15" wheel, I seem to have challenges mounting a spare on the tailgate.
Is anyone out there carrying a 17" JK sport on their tailgate without a bumper carrier?
Gratuitous photos to illustrate my rear bumper's seemingly low, yet obstructive, profile. Thanks!