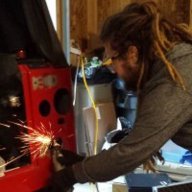 TJ Expert
Supporting Member
Joined

Mar 29, 2018
Messages

3,505
Location
One of my Jeep goals is to go to Alaska. The Alcan 5000 rally seems like a great way to see Alaska (I'll be doing another trip up to Tuktoyaktuk before than too). Unfortunately the Alcan 2020 rally this coming winter signup is filled up and it only happens every 2 years so Summer 2022 it is!
The Alcan 5000 race concept looks cool as "the original idea of rallying as a grand tour, motoring adventure, and gentleman's sport." Basically, you have checkpoints that you have to meet, if you're early you get a penalty, if you're late you get a penalty. It's all on paved and gravel roads. Basically just one cool road trip.
Here's the map from the last summer Alcan 5000 in 2018:
https://www.alcan5000.com/pdf/Alcan2018.pdf
These guys did the rally on their bikes:
I talked to the organizer and it's sounding like my red LJ won't have issues passing tech and will meet the rules. I know it's years out, but as they say "if you don't put it on the calendar it won't happen".
Does anyone else want to go and form a bit of a Jeep team?