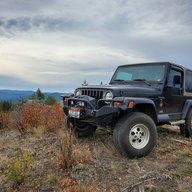 Joined

Mar 23, 2019
Messages

197
Location
Who wheels their TJ with 30's or 31's?

Yep, these forums are packed with information to make our rides tougher, more capable, this resource is AMAZING! However, not everyone either needs, nor wants 33's or 35's for how they use their Jeeps. At times I wonder if new Jeep owners get overwhelmed with all the focus on bigger tires, re-gearing, bigger lifts and more armor? These rigs are pretty capable machines as they came from the show-room let us see what they can do!

So, let's see who still wheels on 31's and smaller tires, and where they go, and what they do with their TJ's!